While we provide a forum for the development of a community-based interagency assessment of the local juvenile justice system, it is also important that we support our community-based organizations. We recognize the importance of providing a platform that uplifts the amazing programming to provide wrap-around support by means of activities such as sports, mentorship, youth employment, creative arts, and more to keep our youth safe from violent crime. At the Lake County Juvenile Justice Council, we are committed to empowering our community-based organizations that are changing the trajectory of our youth and providing clear pathways toward opportunities, so they can reach their full potential.
Out of the Darkness Panel
On September 24th, JJC member Veronica Williams and Keith Williams of Mother's Against Wrongful Convictions hosted an insightful conversation about the causes of juvenile violence in Lake County hosted at the Zion-Benton Township High School. During the panel discussion, Shira Schwartz talked about the need for early interventions in childhood education, Youth Committee Chairman Trey Baker discussed his work in youth empowerment, Adriane Price discussed impact of youth mental health and trauma on the community, and Council Chair Karen Levi spoke about the role of the JJC in the community.
After the panel spoke, we heard from educators, social workers, community leaders, law enforcement, and survivors of gun violence about their experiences, concerns, and ideas for how to stop our youth form being the victims and perpetrators of violent crime.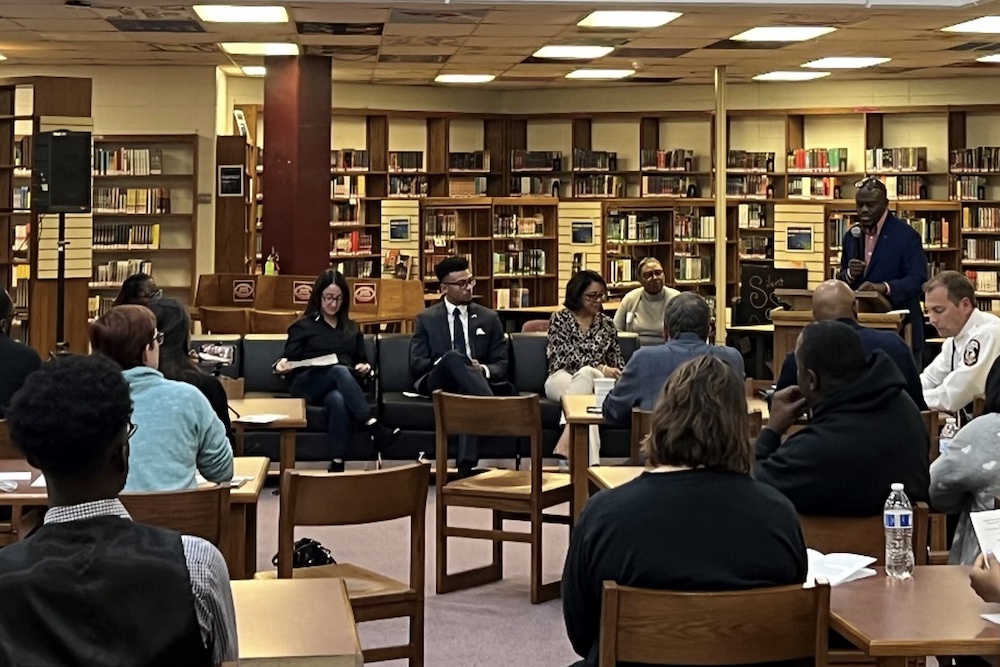 Summer Bootcamp
Recently, our Juvenile Justice Coordinator, Trey Baker, partnered with Lake County Workforce Development to lead 40+ high school students in their Summer Bootcamp where they are learning qualities that will make an employee stand out at work, common expectations from employers, tools that will help individuals land a job, and an introduction to labor market information.
Trey leads two workshops highlighting the importance of skill versus will, tips on how to apply new information, and identifying each student's WHY to show their purpose for achieving success. Through this partnership with the Lake County Workforce Development, Lake County students have access to more wrap-around services that keep them on track with opportunities and networks to get ahead after high school.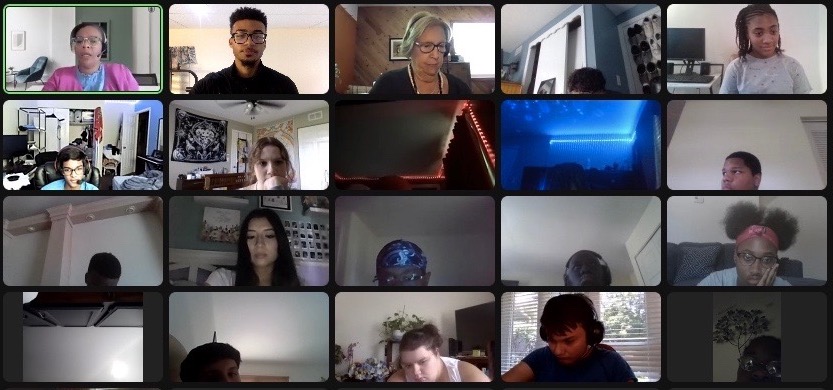 Read Trey's Bio
Trey Baker is an upcoming sophomore at Maryville University in Saint Louis where his is majoring in Organizational Leadership and Political Science, a Multicultural Scholar, and plays college basketball. He currently serves as Special Advisor to the Obama Foundation My Brother's Keeper Alliance and MBK Chicago Action, Lake County Juvenile Justice Coordinator, and Chairman for the Lake County Juvenile Justice Council's Youth Committee. In partnership with the largest children's publishing company in the world, Scholastic Publishing Company, Trey will be named the youngest Scholastic Mentor in the history of the company to join their Rising Voices Library serving K-12 school districts across the country where he will also become a published author in his upcoming children's book.
Some of Trey's accomplishments are receiving the Honoring Our Own: Excellence in Education Leadership Award by the National Association of Latino Administrators & Superintendents and the National Alliance of Black School Educators, awarded the Lake County, IL Sheriff's Official Medal for his work towards reforming public and school safety policy, recognized with a proclamation by the Illinois State Senate for his work in racial and educational equity, awarded and recognized by President Barack Obama for his youth leadership and activism, along with being featured in ABC News, NBC News, and the Chicago Tribune for his work.
March For Our Lives
On June 11th, Lake County hosted the March For Our Lives community rally in Highland Park, IL to stand in unity against gun violence. Trey Baker, Juvenile Justice Coordinator, joined lead organizer Rachel Jacoby and March For Our Lives North-shore chapter to address community members with his story and action steps we are taking to prevent gun violence and provide wrap-around services to address the root causes for underserved youth. With the recent $1.06 million investment in the Gun Violence Prevention Initiative, the JJC is a stronghold for community stakeholders to educate and refine practices and policies to keep Lake County's youth safe and supported.
Angel's Boxing Academy
In light of recent mass shootings and a spike in community violence, Juvenile Justice Council Coordinator and Chairman of the Lake Juvenile Justice Council Youth Committee, Trey Baker, collaborated with Angel's Boxing Academy to lead their Peace Walk in Waukegan, IL. Our young leaders made signs and used the power of their voices to call on their community members and elected leaders to end gun violence. Angel's Boxing Academy is a non-profit boxing gym and chess club where they teach each child in their program a variety of values to help them build character and become better individuals. Their activities engage them in ways that help them understand the following: Confidence, discipline, respect, commitment, leadership, and integrity.